Keski-Penikka observation tower trail
Demanding but short track to the Keski-Penikka's observation tower.
4km long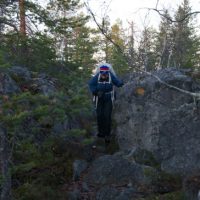 The Keski-Penikka observation tower trail is demanding but short, only 2 km to the observation tower atop Keski-Penikka hill. The track starts in Kivalo P-area.
The beginning of the trail is easy-to-walk road up the slope of Keski-Penikka hill. The last 0.5 km of the trail is a narrow, rocky path. Top of the Keski-Penikka hill is Kivalos wildernesshut and the observation tower. The route is marked with orange paint.
You can also detour in Kivalo's jeager hut.