Kivalo
Kivalo's wilderness hut is not an easily accessible hut although the nearest road is just a mile away. The Kivalo wilderness hut is located on the hill of the Keski-Penikka, in the middle of a rock land.
| | |
| --- | --- |
| Beds: | 4 persons |
| Facilities: | Stove |
| Toilet: | Dry toilet |
| Pets: | Allowed |
| Coordinates: | lat: 65.87108 ° lon: 25.02838 ° |
| Map: | Wilderness hut at map |
| Notes: | Campfire site and observation tower |
| Considerations: | There is no water nearby. Water has to be brought in. |
| More info: | Nationalparks.fi |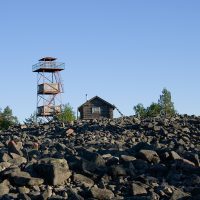 Info
The Kivalo wilderness hut was built in summer 2009. The hut with fireplace is provided with beds for four people. In addition to the hut there is a campfire site, a dry closet and a fire guard tower, which today serves as a viewing tower.
There is no water nearby. The water should be carried for one and a half kilometers from the fountain-trickle located near the jaeger-hut.
The Kivalo wilderness hut is not the original fire hood. In the 1960s, there was a site-like cab with a construction site built before the current building. To the former Fire Tower tower you can admire the scenery to the other level. Access to the highest level has been blocked.
Distances
Kivalo – Saunasaari = 6km
Kivalo – Koivuselkä = 9km (trough Saunasaari)
Kivalo-Hangassalmenaho = 14km